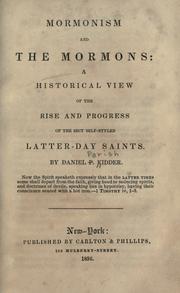 This morning my head hurts too much to read Howe's book as closely as it deserves. So, until the weather pattern clears and my head recovers I skimmed the opening lines of another book. This book is dated slightly later than Howe's 1836 book and was published in 1842.
Mormonism and the Mormons: A Historical View of the Rise and Progress of the Sect Self-Styled Latter-Day Saints by Daniel P. Kidder. Published by Carlton & Porter, New York 1842.
Once again, I found this book via a quick search of Google Books and downloaded a digital photocopy of the entire manuscript including library stamps.
While Howe's book may be viewed with skepticism if the claims that his wife, sister, and niece were converts to Mormonism, Kidder had a completely different reason for writing. In the preface, Kidder explains the origins of his interest in Joseph Smith and Mormonism. In 1840, Kidder was traveling on the Mississippi River and happened, by chance, to board a vessel owned and operated by Joseph Smith. After spending a few days with Smith and his followers, Kidder's fellow non-Mormon passengers requested he write an account of their mistreatment at the hands of Smith so that it could be published in St Louis. Instead, he wrote a piece for the Methodist Quarter Review. The article was too long for inclusion in the review but the editors advised him to turn the manuscript into a book.
What happened on that fateful voyage that its non-Mormons felt needed to be preserved and published? When any of the passengers expressed even the slightest doubt about the truth of Mormonism, Smith later chastised them severely. Kidder concluded that Smith's standard mode of operation was to browbeat his way through life until he got what he wanted.
Smith's poor treatment of his passengers directly resulted in this book being written. It will be interesting to find out what else Kidder learned.
Mormon Fraud: A Brief Summary of Mormonism and its Deceptions - Kindle edition by Kristan Payne. Religion & Spirituality Kindle eBooks @ Amazon.com.